KTV804 compatible LCD display general 9 inch for CNC machine replace old RGB MDA EGA CGA industrial CRT monitor
Model:

KTV804

Shipping Weight:

4Kg

In Stock:

30

Manufactured by:

CNTOP





0 reviews
KTV804 compatible LCD display general 9 inch for CNC machine replace old RGB MDA EGA CGA industrial CRT monitor
This product is used to replace a variety of CNC machine set old RGB, MDA, EGA, CGA industrial CRT monitors, wide compatibility, good effect.
Size 8.4-inch LCD, commonly known as 9-inch display.

KTV804 RGB, MDA, EGA, CGA special industrial monitors
1,supports the 15k to 48k line frequency signal, unrestricted field frequency input, automatic identification line field frequency input.
2,supports digital RGB, RGB analog and color, monochrome, black and white, grayscale and other video formats.
3,Supports both interlaced and progressive scanning modes.
4,Support for vertical resolution from 160 lines to 600 lines, automatic identification.
5,Support any level of resolution, automatic identification.
6,synchronizing signal separating support, the composite synchronization signal or the composite synchronizing signal on a video signal, automatic identification.
7, the output signal of the standard 800 x 600 VGA 60Hz field frequency or custom resolutions.
8, the input impedance of 75 ohms or 750 ohms offer two options, you can adapt weak signal equipment.
Model

KTV804 RGB EGA CGA MDA display

display size

174*131mm 8.4" 4:3

H&V scanning range

scan line signal:15Khz-48Khz positive and negative automatic adaptation

Field scan signal:48hz-75hz positive and negative automatic adaptation

Input signal

Signal type

MDA、CGA、EGA、VGA
RGB、RGsB、RGBS、RGBHV

Synchronous mode

HV line field separate,HV line field blending Cs,Green sync Sog

TTL digital level 2.4-5.0V or Low 0-0.8V

Analog level 0.7-2.5VP-P

Input impedance

75-500 ohm high input impedance, automatically adapt to a variety of strong and weak signal source.

Scanning mode

Interlaced scan / progressive scan

The signal line

9 pin or 15 pin

Display color

262K, monochrome, black and white

contrast ratio

450:1

Brightness

400 cd/m2

work environment

Temperature: -10-+65,humidity: 20%-95%

Installation size

Including installation of border 240*150*50mm

power adapter

External AC100V/240V to DC12V power, power: 18W,
Optional DC 24V power supply
The interface of the display
VIDEO IN: used to connect the 15 pin D signal line or the 9 pin D signal line input.(choose one only)
DC 12V: display power input, used to connect the power adapter.(can choose 24VDC)
9 pin connector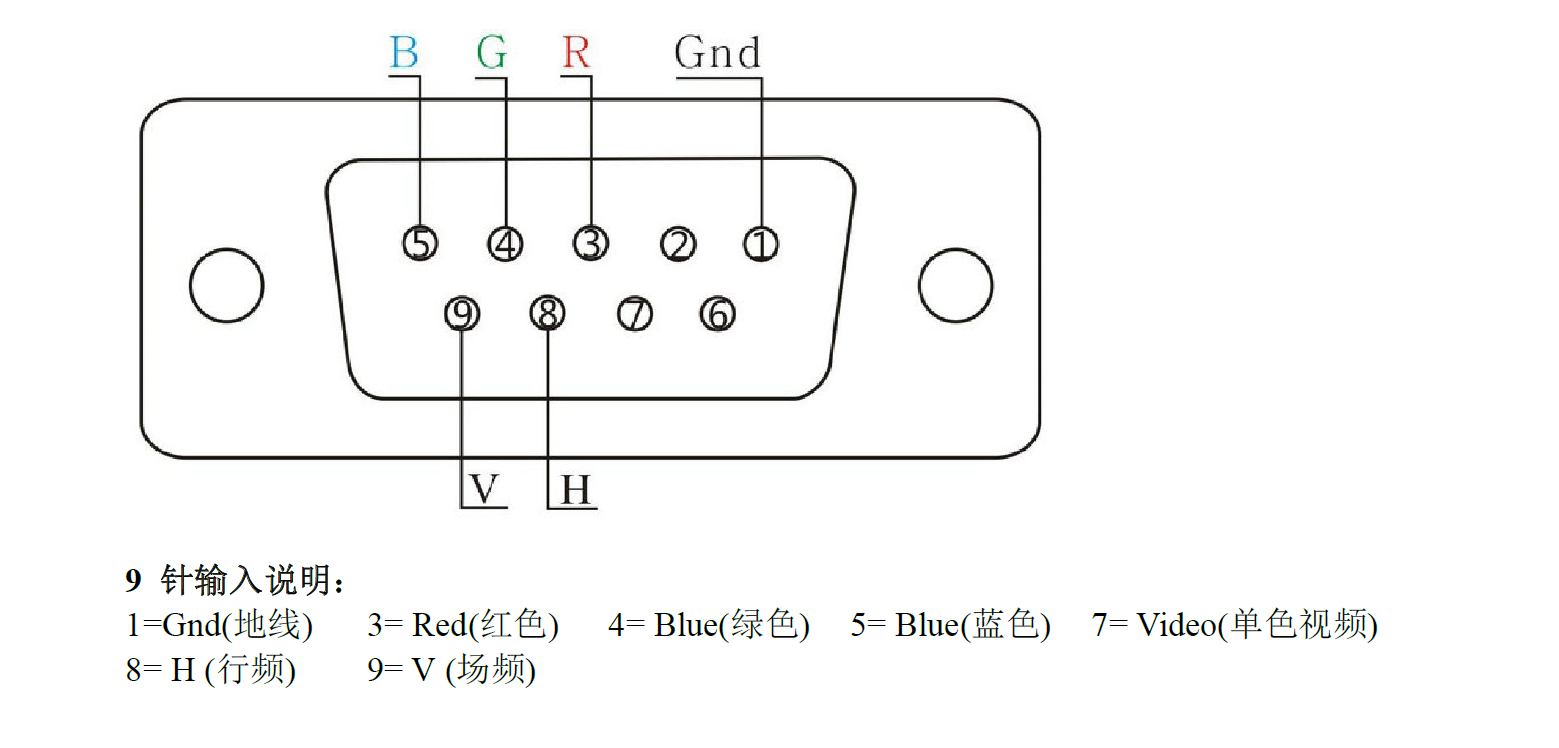 If you choose 15pin connector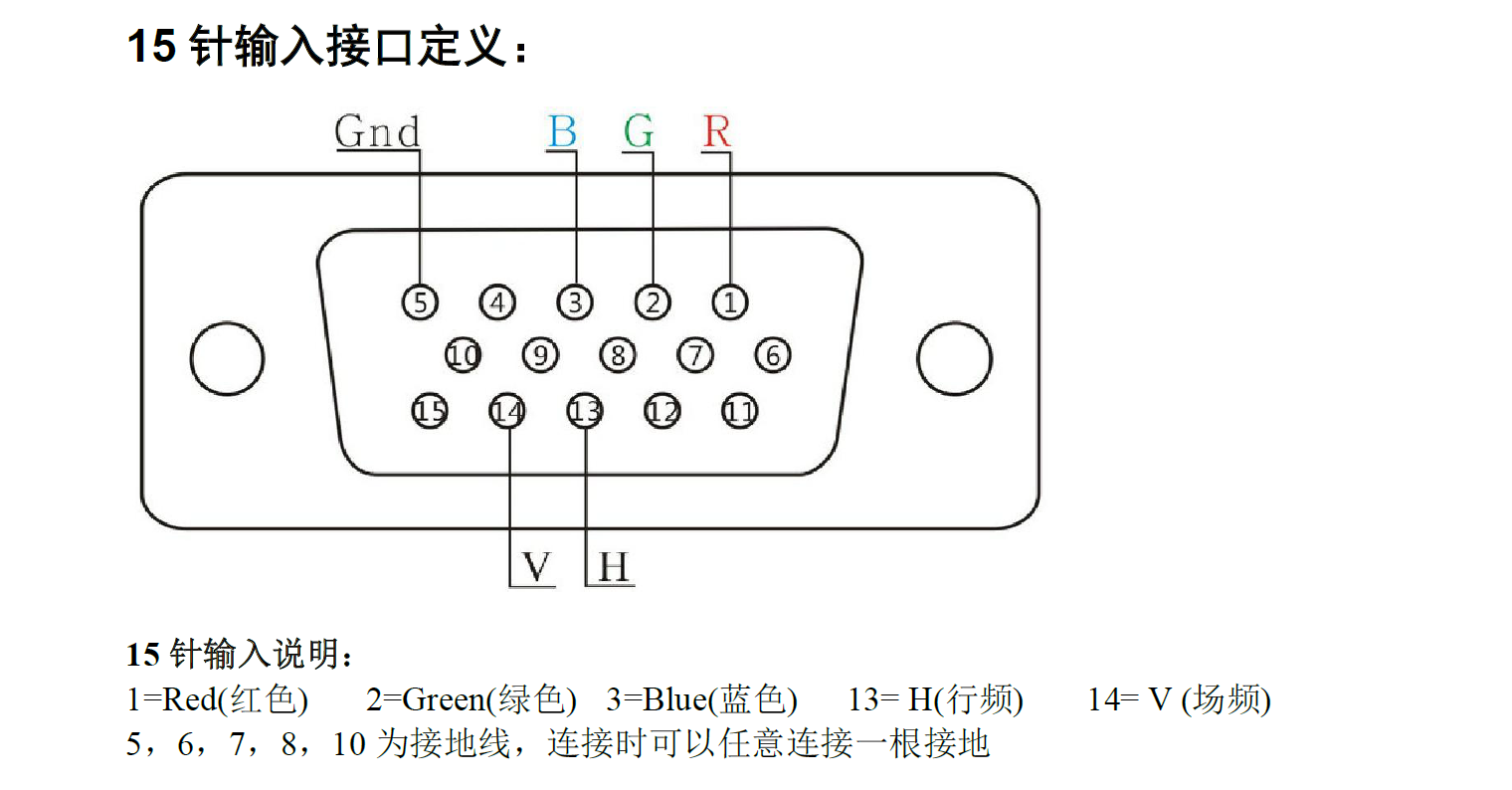 If need know more details, please contact with us.
If you don't know it it's matching your requirement, please contact with me and send me details about your monitor. The engineer will advise.
There are currently no product reviews.