CJ1W-CT021 PLC High speed counter unit new in box
Model:

CJ1W-CT021

Shipping Weight:

0.7Kg

In Stock:

20

Manufactured by:

Omron





0 reviews
CJ1W-CT021 PLC High speed counter unit new in box
Features
Input frequencies to 500 kHz.
32-bit counting range.
Digital variable noise filter provided.
5, 12, 24 V line driver inputs available.
Supports simple, ring, and linear counting modes.
Supports two external control inputs, and a total of 16 functions can be set: open gate, close gate, preset, reset, capture, stop/capture/reset combinations, reset enable, and more.
One Unit supports two external outputs and 30 internal outputs with counter value zone comparisons, target comparisons, delays, holds, programmable outputs, and hysteresis settings.
Pulse rate measurement function and data logging.
Counter outputs and external control inputs can be used to trigger interrupt tasks in the CPU.
Parameter specification
Unit
type

Product
name

Specifications

No. of
unit
numbers
allocated

Current
consumption
(A)

Model

Standards

Countable
channels

Encoder A and B inputs,
pulse input Z signals

Max.
counting
rate

5 V

24 V

CJ1
Special
I/O
Units

Highspeed
Counter
Unit

2

Open collector
Input voltage:
5 VDC, 12 V, or 24 V
(5 V and 12 V are each for
one axis only.)

50kHz

4

0.28

-

CJ1W-CT021

UC1, N, L,
CE

RS-422 line driver

500kHz
Dimension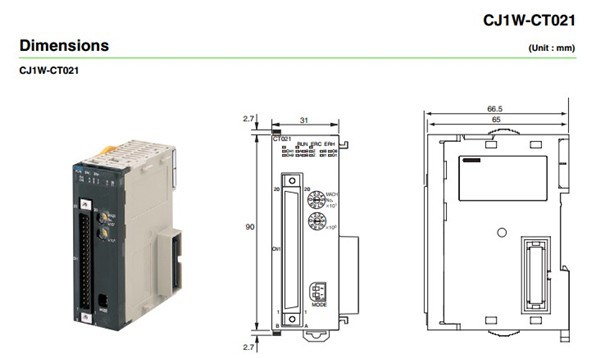 There are currently no product reviews.