CJ1W-CRM21 PLC CompoNet master unit new in box
Model:

CJ1W-CRM21

Shipping Weight:

0.7Kg

In Stock:

20

Manufactured by:

Omron





0 reviews
CJ1W-CRM21 PLC CompoNet master unit new in box
Features
Setup is simple. Make the master's mode settings and set the baud rate, and you're ready to go.
Control up to 2,560 points and 384 nodes with one Master Unit.
Intuitive memory mapping with separate areas for Word Slave Units and Bit Slave Units.
Seven-segment display helps with startup and enables prompt detection of problems.
Collect information from Slave Units using message communications, or use message communications to set parameters.
Inherits the ease of use of the CompoBus/S.
Flexible I/O allocations with software setting function
Parameter specification
Name

Appear-
ance

Specifications

Number
of unit
numbers
allocated

Power
consumption (A)

Model

Stand-
ards

Type of com-
munications

Maximum number
of I/O points per
Master Unit

5-V
system

26-V
system

CS1
Special
I/O
Unit

Remote I/O
communications
Message
communications

Word Slave Units:
1,024 inputs and
1,024 outputs
(2,048 I/O points
total)
Bit Slave Units:
256 inputs and
256 outputs
(512 I/O points
total)

1, 2, 4,
or 8

0.4

-

CS1W-CRM21

CE, U,
U1, L,
N
Dimension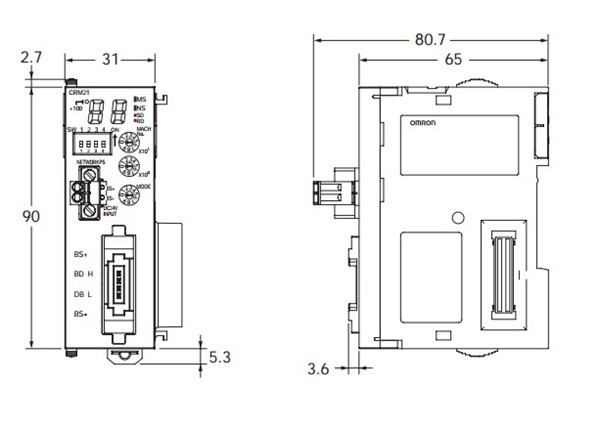 There are currently no product reviews.