CJ1W-ETN21 PLC Ethernet unit new in box
Model:

CJ1W-ETN21

Shipping Weight:

0.7Kg

In Stock:

20

Manufactured by:

Omron





0 reviews
CJ1W-ETN21 PLC Ethernet unit new in box
Features
Use Ethernet to implement various communications protocols.
Implement FINS message communications using UDP/IP or TCP/IP with a user application on a host computer or with Support Software, such as the CX-Programmer.
Use the clock on an SNTP server to automatically adjust the clocks in the PLCs connected to the Ethernet network. (An SNTP server is required separately.)
An FTP server is built in, so files can be used to transfer PLC data between network PLCs and workstations or personal computers with an FTP client.
Email can be used to send commands to the PLCs, or triggers can be set so that the PLCs will send PLC data or Ethernet Unit status to a host computer.
The standard UDP/IP and TCP/IP protocols are supported to enable communications with a wide range of devices, workstations, personal computers, and Ethernet modules from other manufacturers.
The SMTP/POP3/SNTP servers enable the use of host names instead of IP addresses. (A DNS server is required separately.)
Specification
Unit
type

Product
Name

Specifications

No. of
unit
numbers
allocated

Current
consumption (A)

Model

Stand-
ards

Communi-
cations
cable

Communications
functions

Duplexing

Units
per
CPU
Unit

5 V
system

26 V
system

CS1
CPU
Bus
Unit

Ethernet
Units

100BASE-
TX Cable

FINS communications
service (TCP/IP and
UDP/IP), FTP server
function, socket
service, mail send
service, mail reception
(remote command
reception), auto-
adjustment of PLC's
internal clock, and
server host name
specification

Not
supported

4 Units

1

0.38

---

CS1W-ETN21

UC1,
N, L,
CE
Dimension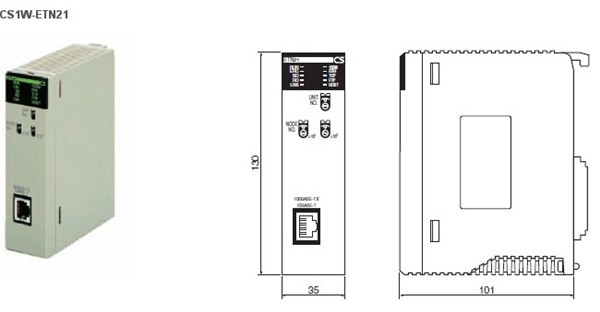 There are currently no product reviews.