2M1180N Kinco Stepper Driver 2ph 8A 110VAC New
Model:

2M1180N

Shipping Weight:

2Kg

In Stock:

20

Manufactured by:

Kinco





0 reviews

Features:
High-Performance, Low Prices;
The Input Voltage of 2M1180N is 77VAC~123VAC (Single-Phase);
Automatic Parameter Adjustable Regulation;
Phase Memory Technology: Remember the Phase Position of the Motor When the Motor Stopped, when Re-Power the Driver, the Motor Won't Shake Anymore;
PLS+DIR and CW/CCW Control Signal Available;
Supply Optocoupler Isolated ERR Output Signal;
Automatic Semi-Current Locking, Reduce the Motor's Heat Drastically;
Optocoupler Isolated Signal Input Circuit. The Maximum Frequency of Control Signal is Up to 400k Hz;
12 Micro-Step Value, the Maximum Micro-Step Value is 128;
With the Protection Function of Overvoltage, Under voltage, Short Circuit and Heat Protection.
Specifications:
2M1180N
Input Voltage: Single Phase 77VAC~123VAC,(50Hz)
Output Current(Peak,Unit:A): 4.5~8
Input Current: 6~16mA
Micro Step: 2~128
Model

2M1180N

Parameter Lable

Parameter

Value

Input Voltage

Single Phase 77VAC~123VAC,(50Hz)

Output Current

4.5A, 5A, 5.5A, 6A, 6.5A, 7A, 7.5A, 8A

Micro Step

2/4/5/8/10/16/20/32/50/64/100/128

Input Signal

PLS/DIR/FRE Current Limit: 6~16 mA

Control Signal Mode

PLS + DIR, CW/CCW

Output Signal

Prot: ERR( Maximum Output Current: 10mA )

Protection

Overvoltage, Under Voltage, Short Circuit and Heat Protection.

Brake Mode

Available to Connect the Power Resister. Need Custom.

Environment Parameter

Cooling Way

Fan

Environment

Operation Environment

Avoid the Environment with Great Amount of Metallic Powder, Oil Mist, or Erosive Gases.

Operation Humidity

<85%, RH

Operation Temperature

0°C~+40°C

Storage Temperature

-20°C ~+70°C

Weight

1.5Kg

Dimensions

210mm x 147mm x 66mm

Protect Level

IP20
Dimensions: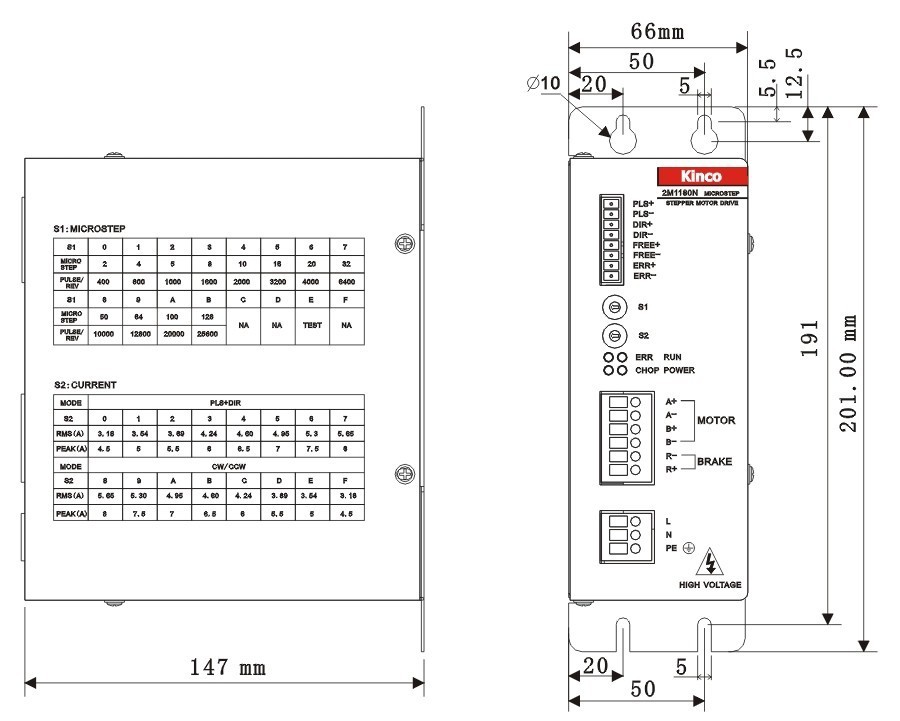 There are currently no product reviews.